Let us help you make the right choice
Your RV or Motorhome is your travelling partner. We can help you make the right choice.
Guide to Buying a New Motorhome
We understand that buying a new motorhome is a significant investment. It can also be little confusing. To make this process as easy as possible we have combined our decades of experience to compile our top tips and recommendations to create a Guide to buying a New Motorhome or Campervan in Australia.
---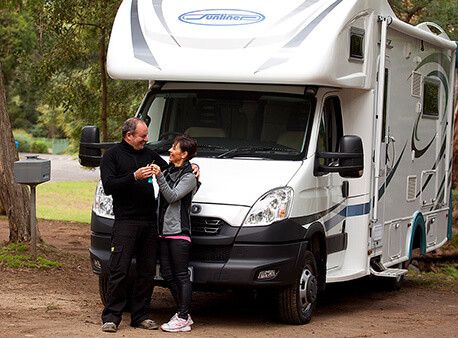 Interstate Buyers
A significant number of our customers are located outside of Victoria. We are committed to making it easy for to buy from us wherever you may live. Should you choose to buy your RV from us, we will assist with travel arrangements and transfers. Contact our team to enquire how we can assist you.
---
International Tourist RV Buyers
A growing number of visitors to our incredible country (yes we are happily biased!) are choosing to tour for extended times in their own motorhome. They recognise the difference in quality and experience when travelling in a vehicle designed for private travel. We offer an end of tour "buy back service" and will arrange airport transfer to make the experience as easy as possible. Contact our team to start your Australian adventure.
---
Motorhome and Campervan Finance
We use a local accredited finance specialist to provide an onsite range of finance options to suit every lifestyle. Terms are competitive, approvals are fast and all of the advice is complimentary. Ask our one of our team if this something you are interested in.
---